ABOUT BRAND AMBASSADORS & EDUCATORS
We are so proud of our ambassadors and educators at Le Noir. Please, let us intorduce them.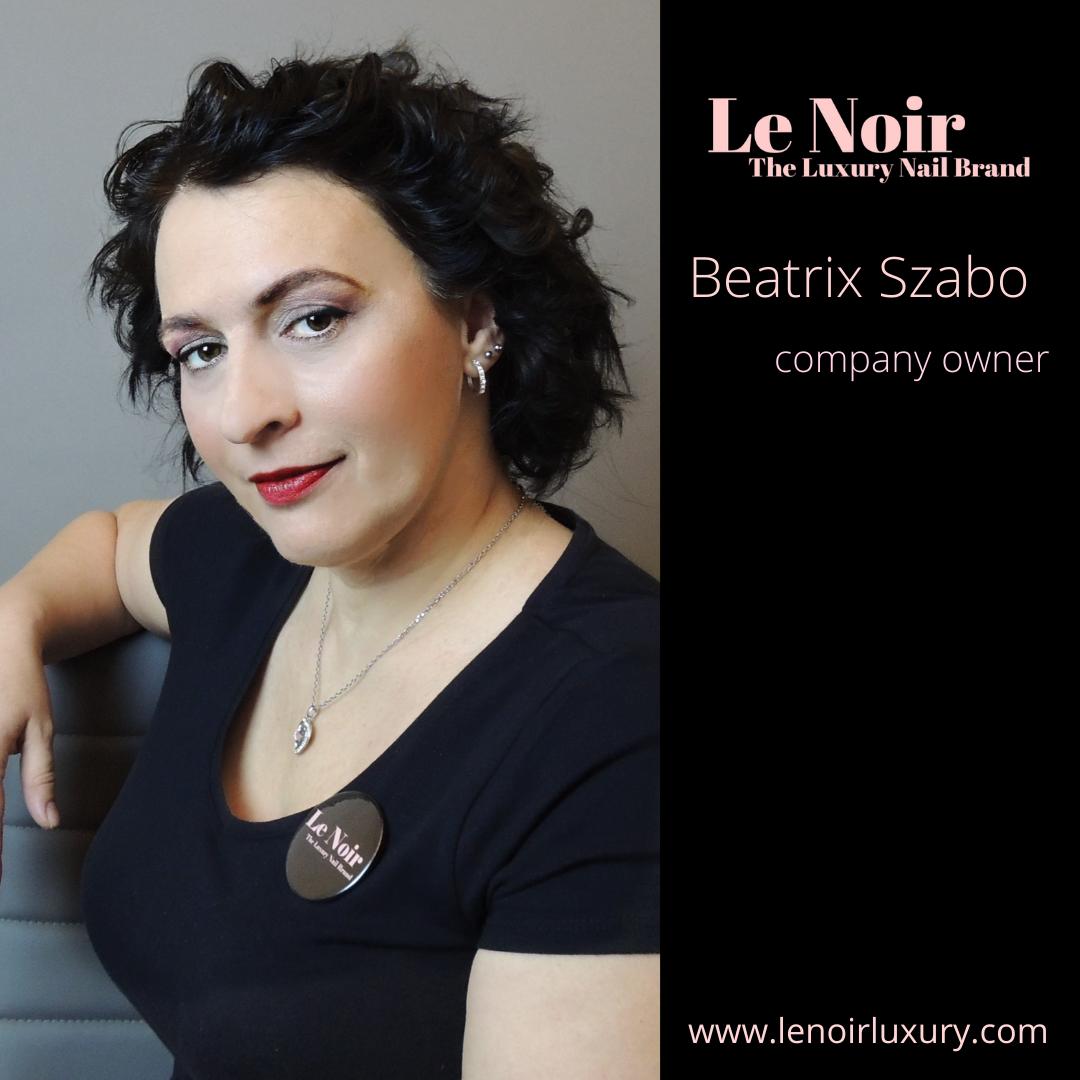 My name is Beatrix Szabo. I'm the owner of Le Noir The Luxury Brand. 
I would like to introduce my lovely Ambassadors, but I would like to start with myself first. I've moved to the UK in 2009 with my 3 beautiful children. I've started in London and eventually I've moved to Derby. Doing nails was a childhood dream for me, but I could only get around to a Level 3 diploma course in 2017. I think this is the price you pay, when you have kids. They always come first. On the course I've met most of the girls who I work with now. That's what gave me the idea of making my own professional nail brand. When I started the company it was called Trixy Nails and I was selling the famous hungarian nail artist Krisztina Ujvari's products in line with my files, buffers and brushes. As I was managing a business in Hungary for 20 years it wasn't hard to get back into it again. From the beginning I've started testing out other products as well, as my goal was to find the best.. Then I had to realise my company wasn't good enough and it needed a complete face lift, if you know what I mean. It's painful, but for the best results you always have to suffer. In this change I had to rename Trixy Nails and Le Noir was born. It's much more elegant and black is always trendy. I wanted my customers to have a very luxurious looking package ( with the name and the packaging), when they dress their shelves up with my products. My first and still the most popular products are the Acryl Gels. Barbara Preil-Kovacs is my right hand or my left...oh well maybe both, from the start. She was and well still is my teacher, mentor and friend. She taught me in London and I can honestly say, she taught me everything I know and I'm very proud, than I was able to learn from her. So this it how it all started...with me and my big dreams. And now, I can work with a wonderful team, who are amazing professionals individually as well . I would like that we carry on with the highest standards and we will be able to give you all the best products on the market. My success lies within the satisfaction of my customers. That is the highest praise a business owner could ever have. I've told you enough about myself now, let's introduce to you the TEAM of Le Noir.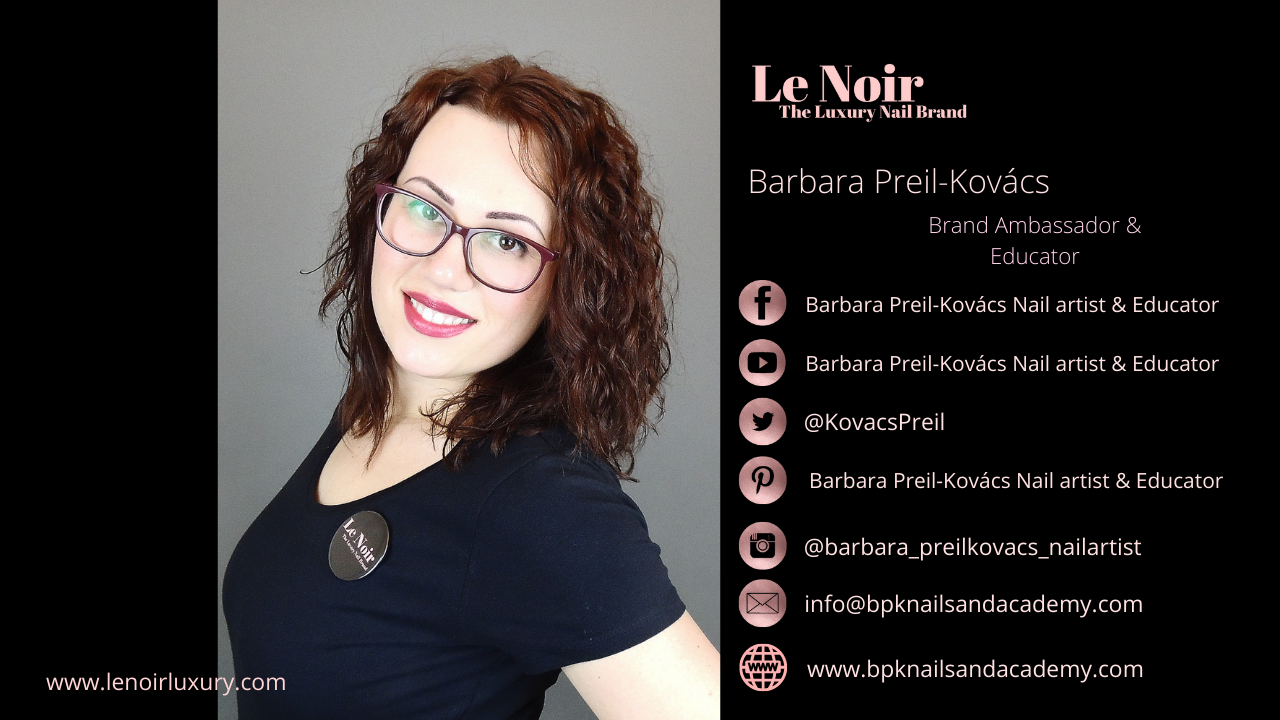 Barbara is a nail artist and educator, she has moved from Hungary to the UK in 2016. She has been a nail artist for over 10 years and she has an extensive experience in all aspects of nails. Her fist calling towards the nail industry was in 2009. She has completed her first course in 2010 at Crystal Nails Hungary.  She is extremely passionate about bringing high-quality nail products and training into the industry, with the belief that every nail professionals should have a desire to continue to learn and develop their skills throughout their career and dreams.  She had a passion for nail art, but realised quite early on that without the correct technical knowledge, the art won't take her any further, so she invested more time and passion to bring the basics up to a master level.  So she is highly experienced in both art and structural knowledge. 
 She has won over 17 trophies both nationally and internationally and became Ultimate Nail Master in 2019 UK, 3x International Nail Master, Nailympic winner in Divison 3. She really enjoys nail artistry and She runs a busy and successful home salon and nail education academy.  
She loves all products of Le Noir The Luxury Nail Brand and She joined us and became an ambassador and educator for us in 2019. At the same time she is independent as well , willing to use any other brand to achieve the best results, but her heart will always belong to us.  She is awarded in Education and Training and She is a Nail Beauty Assessor (trained by VTCT) as well.  
If she has to pick a few products these are the one she would like to receive you: All Acryl Gels...and her reason is that since these products has launched in the nail industry and she had the chance to try them, she realised that they will present the future of the whole industry.  She knew straight away that  in this rapidly changing and time pressured world we nail techs need to be fast and have less product waste in line with having more income. The Acryl Gels will help us to be on top and satisfy a wide range of people to achieve shorter treatment times but not to sacrificing the quality of our work.  In 2022 accredited her courses through ABT, one of the UK's leading beauty insurance company ,BPK Nail & Academy . Online -, private and group trainings are available if you wish to take your knowledge to the next level.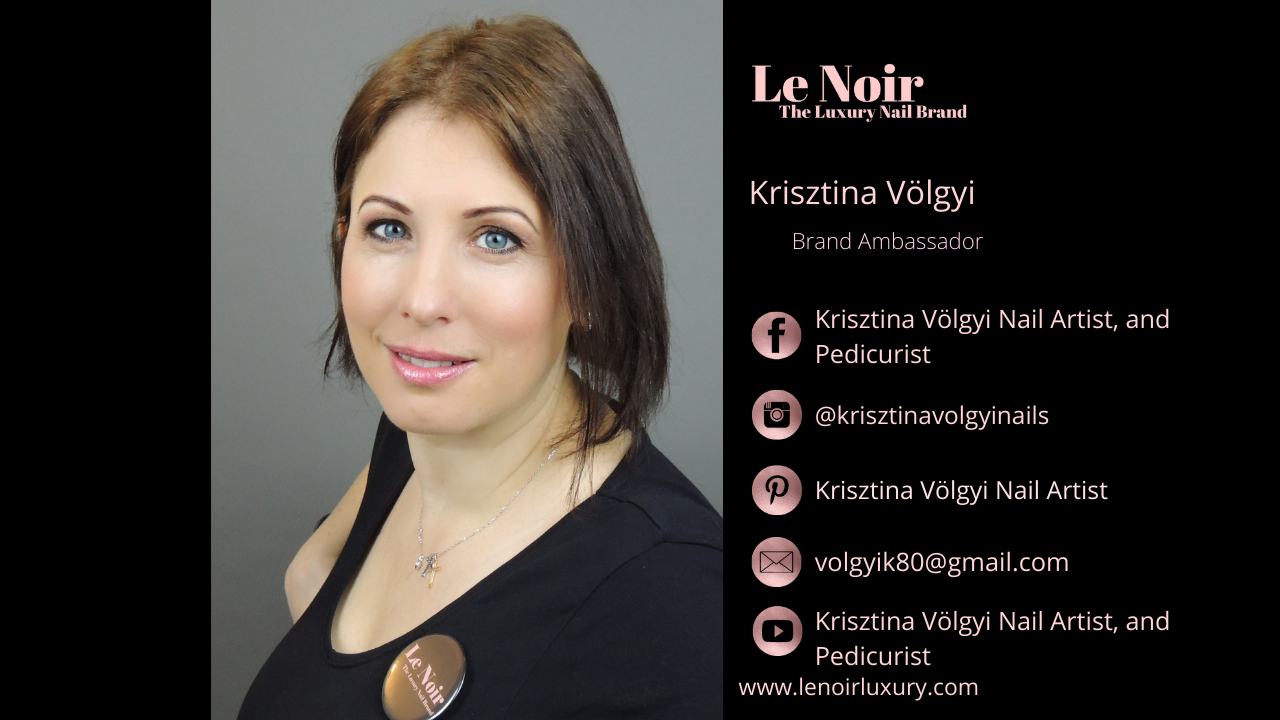 Our next Brand Ambassador is Krisztina Völgyi (from Hungary), who has been a nail artist and pedicurist for over 10 years and keeps her skill and knowledge up-to-date by taking professional courses. 
She has worked in the UK since 2016 and done outstanding manicure and pedicure jobs which have made her become a perfectionist of gel polish application. Krisztina is a friendly, lively and client focused  person who always looks after her clients' wishes.  She first met our products in 2018 when they were named as Trixy Nails and one year later she joined our team. 
You can find most of our products in her little salon where she has been treating  clients since 2016. She recommends you some of her favourites from our product range below: "My choice ...well...not the easiest to pick, as I love all the products here, but let me introduce the Le Noir The Luxury Brand's Transfer foil, and Transfer Foil Gel. It is easy to use, and I'm always happy with the results. And I mean it's easy !!! You just brush it on, cure it and press the foil into the gel and it's done. I have a great variety of transfer foils from Le Noir,  so nothing can stop me creating different nail designs . If I can tell you a little trick which would come handy, I would say use a matching base colour to hide any imperfections you might make to cover it up like a good magician."  Her plans for the future are quite simple. Risk a little and start competing and teaching, to pass the passion for nails on to the next generation.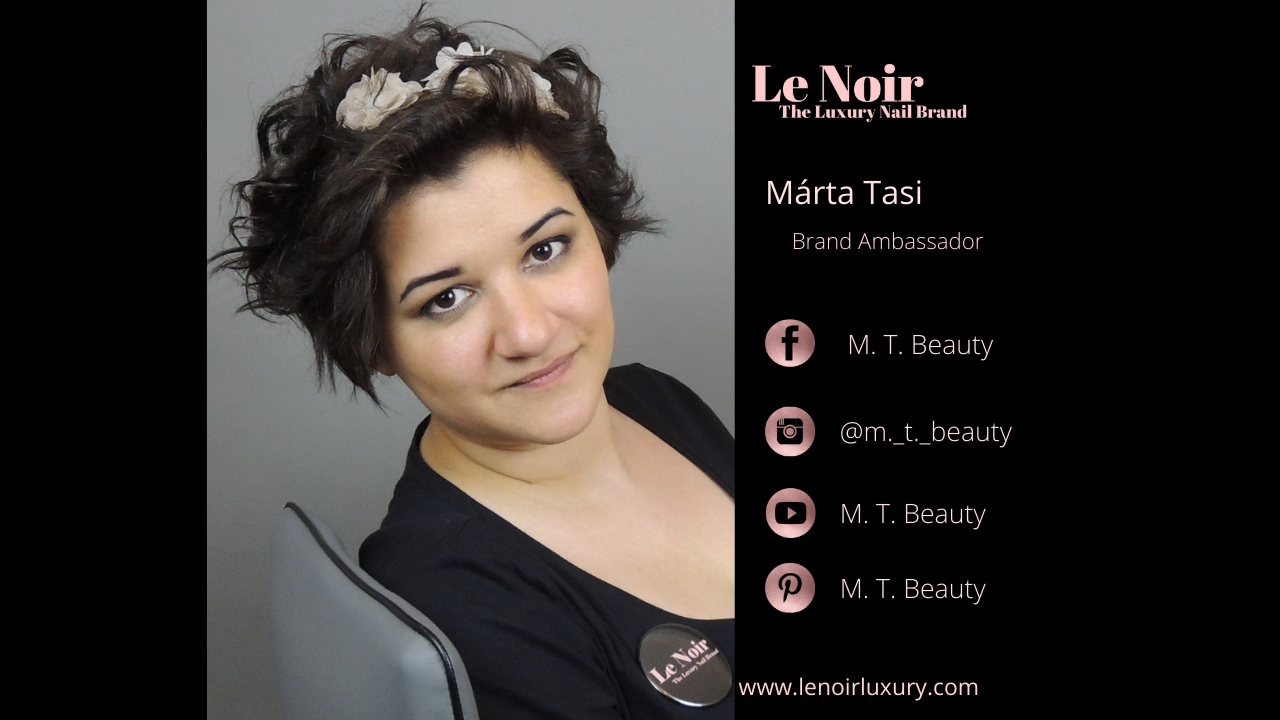 Let us introduce Marta Soki one of our Brand Ambassadors and Educators. She is from Hungary, but she's been living in the UK since 2008. She first started playing with the thought of becoming a Nail Tech in 2015 when she has attended her first course in London. Since then she's taking different courses to expand her knowledge. She wanted to work with people and she was always interested in the beauty industry.



As she loves art, nails were her only chance to express herself. She is more invested in hand painted art. Loves landscapes and cartoons. She tries to follow the newest trends to keep up with the quickly changing demands . She won multiple awards on an international nail competition . Better to keep an eye on her. She became part of our team in 2019, when she gave up being only a part time nail technician and decided to go full time. Her path has crossed ours in the beginning of 2019 and she tried our products. It was love at first sight. Since then, she has completely changed her product range to ours and to spread the love, we've asked her to join us and let us help her to grow bigger. We asked her to pick a few products she would like to recommend you, and to share her reasons why. ' I love working with all the products, but for most of the art I do, I use Le Noir The Luxury Brand's gel polish range. I have a massive range to choose from, so my imagination has no limits. They are highly pigmented, most of them would cover in just one coat, so I save a lot if time when I have really detailed work to do. I used other brands as well, but I found Le Noir the most suitable for my needs. ' Let's go back to her plans for the future. She plans to risk a little and start competitions and maybe will look start teaching in the future, so follow her, to see what she will surprise you with.
In 2022 she became an Educator and accredited her courses through ABT, one of the UK's leading beauty insurance company and M. T. Beauty and Academy was born where she will provide quality educations for her future students.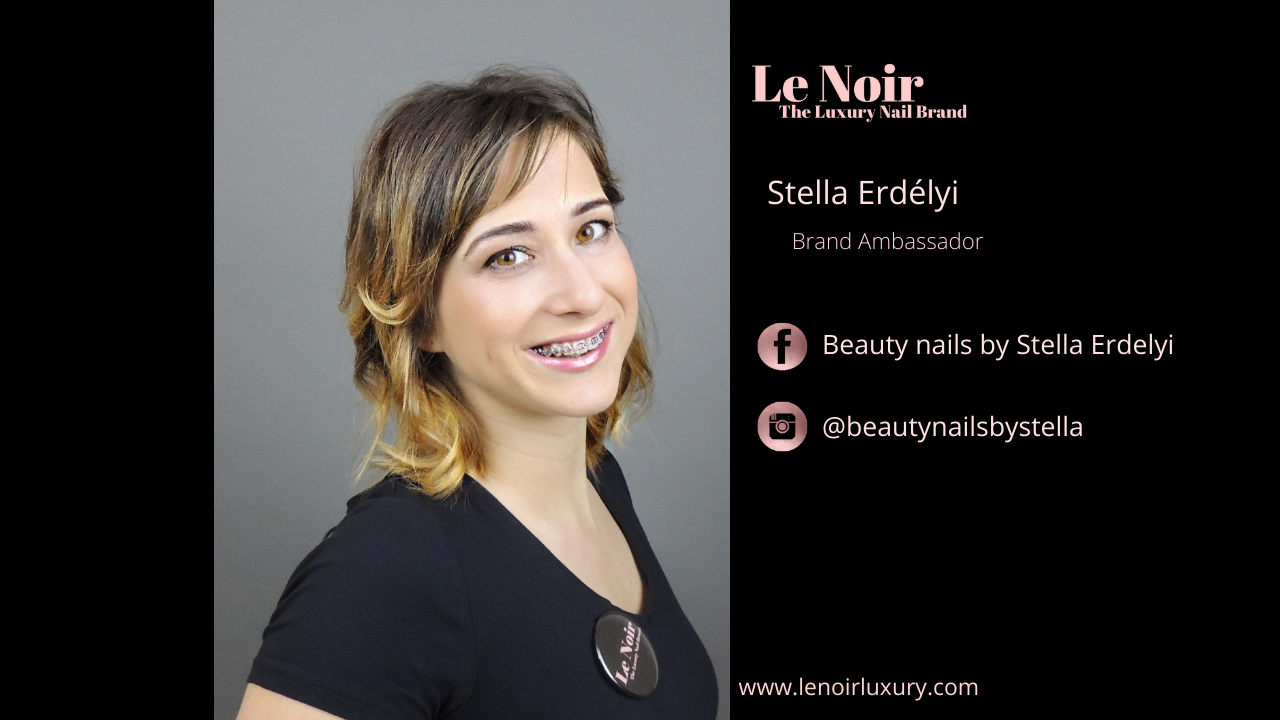 Let's see our next Ambassador Stella Erdelyi. She is from Hungary. She has been living in England since 2014. She has become a nail technician in 2017.   Since she has known "nails"  she was existed and interested about them, but She wasn't sure if it was her cup of tea.  Later on in London where she lives at the moment she was working in hospitality. A couple of years passed by when she realised she wanted to do something that she liked more. She had an opportunity to go to the Crystal Nails Academy in Hungary.   After when She finished her nail training  she's got a chance in the salon to start working with amazing girls who were professional nail artists.  She has learned so much there. It was very hard for her to keep up with them but She never gave up. They pushed her everyday to be better then the day before. She felt blessed that she had that chance.  Now she works from home and she really loves her job and her clients. They always leave happily with their nails.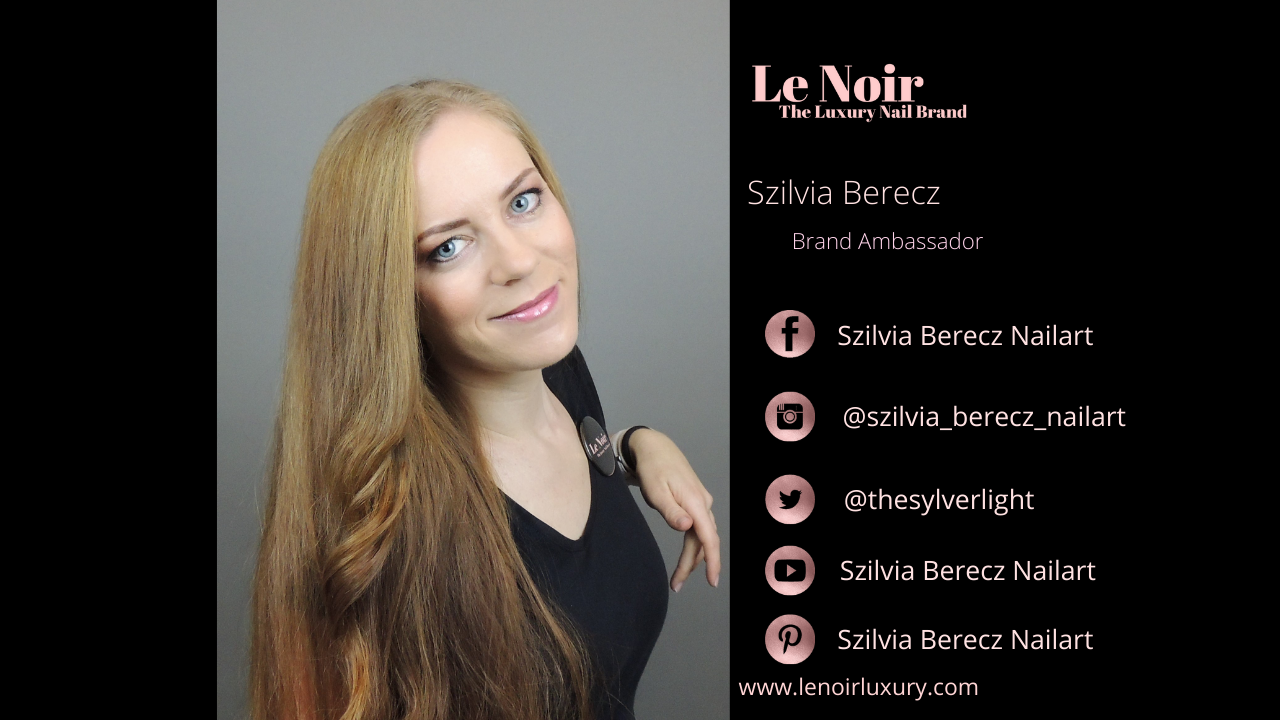 Szilvia Berecz, one of our Brand Ambassador is from Hungary. She moved to the UK (London) in 2009. She has always had attraction to nails and soon she realized that this was what she always wanted to do. She gained qualification in nail services in 2011 in London. She started as a part-time nail technician but since 2013 she works full-time. Creating nails became her passion.  
She constantly improves her skills by participating on different advanced technical and nail art courses since then, she loves to create unique designs, her most favourites are aquarelle and 3D nail art.  She has been attended as a competitor on Professional Beauty London in 2016 and on Naliympia London in 2017. She moved to Nottingham in 2017, since then she had her son and had a few months break, but right after her maternity leave she met Le Noir The Luxury Nail Brand by a friend, who's also our Brand Ambassador.  She fell in love with Acrylgel system first as a product user in the middle of 2019, then she joined our team in September 2019. Since then she's loyal to our products. Her favourites are our nail art gels and gel polish range, as she said 'It makes my life and work easier'.  Her aim first of all is to become more creative to fascinate her followers and clients and she's also planning to attend on more competitions in the future.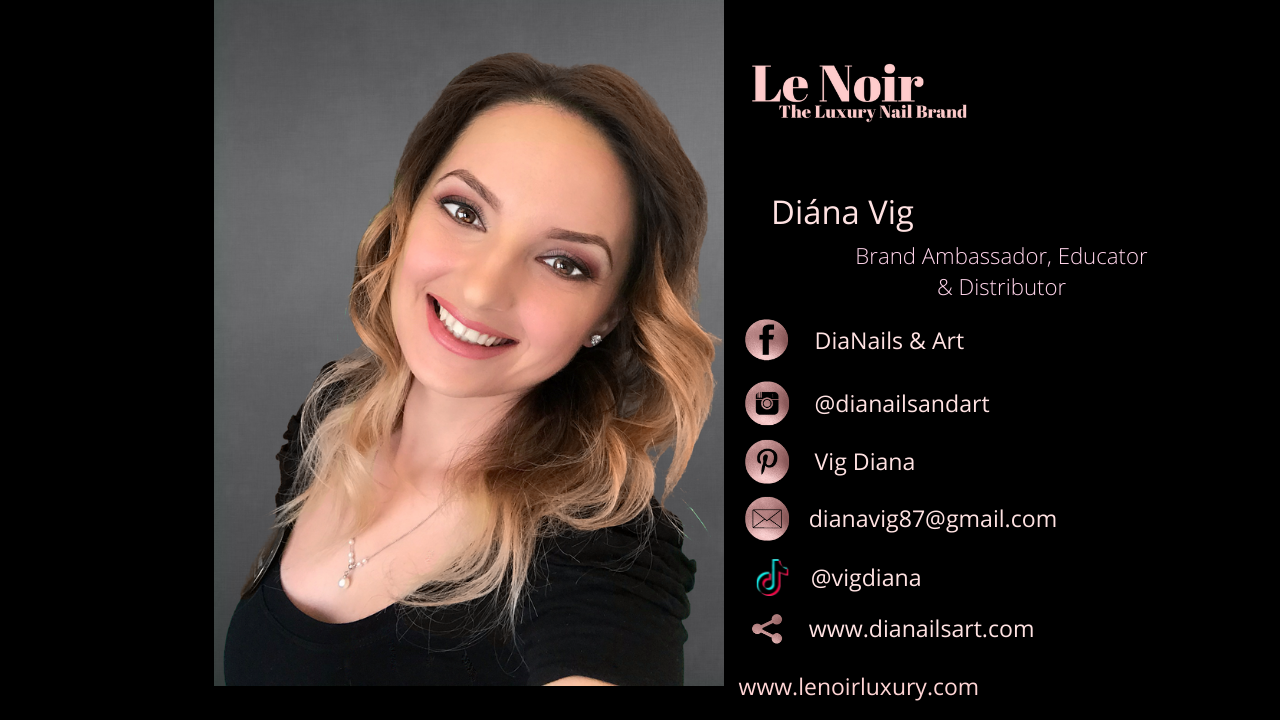 Let us introduce you Diana Vig, our Brand Ambassador, Educator and Distributor. She's moved to the UK from Hungary in 2014.  Her love for art started quite early on and as a result she has graduated at the well known University of Pecs as a Fine artist and visual communication teacher in 2012.  She had an interest for the beauty industry especially for nails right after her daughter was born in 2013.  In this industry she was able to use all the knowledge she had from the university including painting, sculpting, graphic design and teaching as well. She has started teaching in 2019 in the UK and abroad. She's been to the USA, Spain and Hungary.  Between raising her daughter and working in her salon she is trying to take part in competitions. In 2016 she's participated in the London Nailympia where she landed second place in the Fantasy Nail art category. Also she was in the 5 best One stroke artist in the UK chosen by the Scratch magazin.  She joined the Le Noir team as brand ambassador and distributor in 2019 because this brand gives her freedom to create and teach not like other brands. We let her to plan individually and do her thing without any restrictions and we support her in her nail artistry.  In return Diana worked very closely together with us and together we've created Le Noir's art gel and nail art brush collection which has been named after her. Obviously they are her favourite products and she uses them during her teaching 80% of the time.

"I can't imagine the salon work without the Le Noir acrylgel any more, but my absolute favourite is the art gel collection. With its creamy consistency and high pigmentation this art gel is way above the others, that I have tried. It can be used in many ways, enables the material to create different kind of nail art. The colours can be mixed with each other very well, without becoming greyish. Can be used to change the colour of the plastiline or the acrylgel and in addition to all of this, if you mix it  with top coat it will create the glassy effect gel. I would like to highlight the matte top coat which is indispensable in my salon work, real love since I've tried. " 
 She has several plans for the future, some of these are to attend more competitions, and to create  wider range of courses so she can take the Le Noir Brand to many more countries to spread the love.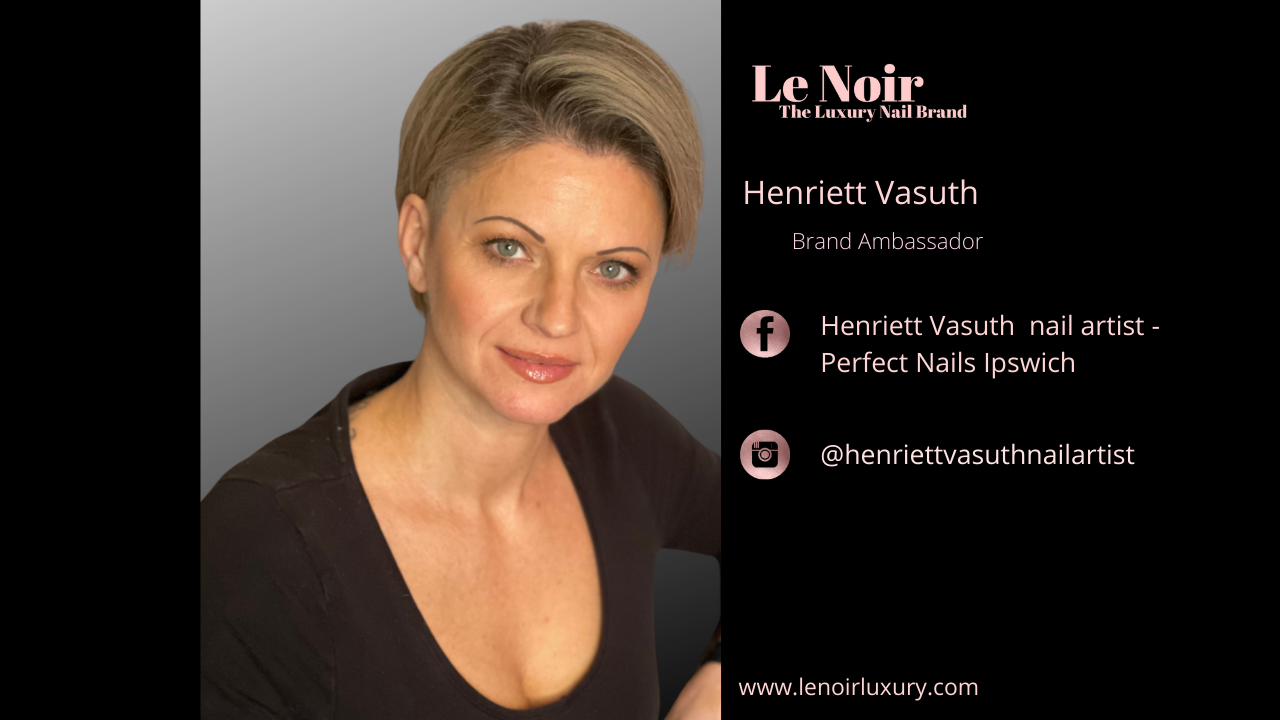 Heni moved to live in the UK in 2008 with her family. She already had her basic course finished by that time, but didn't have the chance to work as a nail tech for quite a long while. She was doing different jobs as her and her family wanted to have their very own home. After things settled, she went back to do nails and started to have training in both sculpting and nail art. Around 2016 she started to work in a salon part time as she worked from home too. As her skills improved and her clientele grew, she made the decision to leave the salon and concentrate on her own business. In the meantime, she was searching for a company whose products she could trust, as it started to become a pain to order them from all around Europe... Heni started trying out products from UK based companies and finally she has become devoted to Le Noir. Heni only just became our ambassador and therefore, there are so many things she is still trying out. However, what she can say, is that; " I don't have to worry about running out of anything, thus being able to continue to provide a professional service, with professional materials. I mainly work with Acryl Gel and acrylics - they are my passion as I mainly do sculpting, but I try my hardest to improve my nail art skills too. As I only just started using the Le Noir Brand, so far my favourite products are the preps -as that's the most important part-and Acryl Gels, but I'm super happy with the gel polishes too. It's a nice surprise how pigmented they are.  I dream of becoming a teacher one day, but it seems a bit far fetched at the moment, but, a girl's got to dream, right ?! I would really like to be more confident and start participating in online nail competitions first, so this is something I feel to be more achievable, before becoming a teacher ."